Welcome Cover Letter Samples
Sample Letter #1
Dear (name):
As Manager of Doe Catalogs, I would like to personally welcome you as a new advertiser.
Jane Doe, your customer service representative, has told me about you and your firm, and we are anxious to assist you in achieving your advertising objectives.
I love greeting new clients because it allows me the opportunity to describe the Doe Catalogs philosophy. Our years of success are due to this philosophy, which includes helping our clients meet and exceed their sales objectives.
We at Doe Catalogs give 110% to all your service needs. Anything less is not good enough. This means that on every advertising campaign we give you more than you expect and pay for. By consistently going the extra mile, we have created successful campaigns that work and a loyal clientele. In this same manner, we hope to earn your confidence and continued business.
I look forward to personally meeting you.
Sincerely,
Sample Letter #2
Congratulations on your recent real estate purchase. You are another fortunate family taking part in the American dream. We are pleased you have chosen Doe to handle the remodeling and maintenance of your apartment complex. Our associates are licensed contractors with 30 years of experience in real estate maintenance. We have assigned John Doe to take care of your account. Please feel free to contact our office at 555-5555 at any time and we will immediately take care of any problems. Again, thank you for choosing Doe.
Sample Letter #3
Thank you for selecting Doe and Associates to file your taxes this year. Our firm has provided tax services for over ten years and has built a reputation of integrity and efficiency. Our accountants have many years of experience and stay current with all new tax laws. We are dedicated to providing you with the most thorough and up-to-date service possible.
We hope that you will feel comfortable turning to us for any of your accounting needs now and in the future. Please feel free to call me during business hours throughout the next week at 555-5555.
Sample Letter #4
We are pleased to welcome you as a new customer of Doe Office Supply. We feel honored that you have chosen us to fill your business product needs, and we are eager to be of service.
As you know, we carry everything your office may need. We have a great variety of products to choose from, all at competitive prices. We have a complete line of stationery and business cards for new business owners like you, at a discount of 20% for initial orders.
We would be happy to visit with you at your convenience to discuss your office supply needs. Just call us at 555-5555, or come by any time between 9:00 a.m. and 6:00 p.m., Monday through Saturday. When you come in, we would like to present you with a 2002 desk calendar as a token of our appreciation for your business.
Thank you again for your choice of Doe Office Supply to fill your office supply needs. We look forward to a long and successful association.
Sample Letter #5
Just a short note to express our gratitude for your business. We have served the community's advertising needs for 20 years, and we hope to serve yours for 20 more. I am here to make sure that we are meeting your needs. Call me if there is ever any question about something we have done or something we can do for you.
Sample Letter #6
Welcome to Doe long distance service! Doe is America's fastest growing and most innovative long distance company. We are dedicated to providing you superior service, competitive rates, and unequaled incentives.
Our friendly, knowledgeable customer service representatives are standing by to explain our additional services and to assist you in getting the most from your telephone service. You may call us toll free at 555-5555.
Your complete satisfaction is our first priority! We are delighted that you are a Doe customer and look forward to serving you.
Sample Letter #7
We hope your stay with us will be a memorable one. Our staff is dedicated to serving your every need. If there is anything we can do to make your stay more enjoyable, please do not hesitate to contact our 24-hour front desk. To give you more information about our hotel, please pick up the blue guest information book located in your room.
Again, we at the Doe Hotel realize you had a choice, and we are glad you chose us! Thank you for your patronage and enjoy your stay.
Sample Letter #8
Welcome to our family of fine patients. We want to take this opportunity to let you know how pleased we are that you have chosen our office for your dental needs. It is our privilege to serve you and to provide you with our best possible care.
Should you have any questions or concerns regarding your dental health, please do not hesitate to call us for routine information during business hours or for emergency care after hours at 555-5555.
Related Articles
Related Resources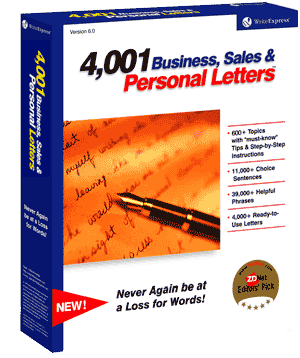 You will with our 500 letter-writing tutorials!
Find the welcome letter that fits your needs and copy it directly into Microsoft Word or your favorite word processor.
Or let our 500 letter-writing tutorials guide you step-by-step through the writing process, suggesting sample phrases and sentences for each writing step. In minutes, you can write an effective welcome letter.
Print your welcome letter and send it!
As an HR professional, you want to help new employees acclimate in their workplace. Use this new hire welcome letter template to start an effective onboarding process
Dear [employee's name]
Welcome on board! We're delighted that you are joining us. We were impressed with your background and skills and we can't wait to see you in action.
Please come in on [insert date] at our offices [insert address/floor], where Human Resources will be be there to welcome you. We have organized your first day to help you settle in properly. Here's an outline of what to expect:
You will take some time at the beginning to sign the employment contract and any other necessary paperwork
You will familiarize yourself with your workstation and set up accounts and any other hardware
You'll get time with your team leader who will brief you on the position and responsibilities
We'll have induction training on the basics like policies, company products and perks
At lunchtime, HR will introduce you to your colleagues
To help you familiarize yourself with the company, we have arranged your access to our employee directory here: [insert link]. We want to ensure that you feel comfortable and hit the ground running.
Our dress code is [business casual]. Don't forget to bring your ID. We have enclosed benefit forms and the employment contract so you can have time to review them before you sign.
You can find out more about the company's culture in our Employee Handbook (enclosed). We're confident that you'll be a real asset for our company. Looking forward to welcoming you in person!
Yours,
[Your name]
[Your signature]
More onboarding resources:
Download this sample as Word Document

Share this:Tweet