Ww1 Life In The Trenches Essay Checker
This unit forms part of the World War One materials at ActiveHistory:
Causes of World War One
Life in the Trenches in World War One
Causes for Germany's Defeat in World War One
Remembrance Day: Activities for all Year Groups
Battlefields Trip: itinerary, workpack and follow-up activities
Origins of WW1 and WW2: Comparisons and Contrasts
---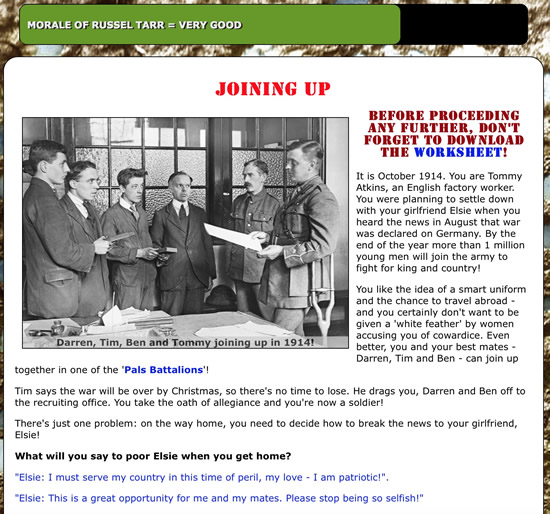 Decision-Making Simulation: Can you survive life in the trenches? [FREE]
"In this simulation you will be a British soldier who joins the army in 1914 to fight the Germans. You will learn about the conditions which soldiers lived and fought in, and the dangers they faced. There is a worksheet to go with this activity which you should complete as you proceed. You can also save your progress at any time so you can continue the game over several lessons or as homework. There is even a leaderboard!"
Life in the Trenches! [earlier version]
A decision making game, complete with worksheet and extension activities. A good way into the topic. This version is a simpler version of the newer simulation, more suitable for younger students or for classes with less time to devote to the investigation.
Timeline Activity
Students should then move on to produce a timeline of the Western Front using this excellent animation from the BBC.
Web Research Task
I then get students to produce a PowerPoint Presentation for the class based on a key theme of trench warfare using the BBC Flash Movies. This sample worksheet gives an idea about how to set the lesson up.
Propaganda and Censorship
Propaganda and Censorship: How did the British government respond to the recruitment crisis? - a PowerPoint Presentation complete with questions. There is also a PowerPoint Presentation on The Defence of the Realm Act.
Empathetic Account
Students should produce a four-part story from a solider's perspective covering the following points:
Paragraph 1: Establishes who you are and why you joined
Paragraph 2: Outlines how the trench system came to be established
Paragraph 3: The different types of trenches*
Paragraph 4: What life was like in the trenches*
*For these final two sections, students should use the World War One Summary Pages.
In-Depth Investigation
Old Wulfrunians who died in WW1 (designed for students at my old school, but it might be of interest to other schools considering a similar project).
War Poetry
War poetry - worksheet A photocopiable worksheet of World War One poems, complete with questions. There is also a PowerPoint Presentation to accompany the task. I like to introduce this lesson by reading "1914" by Philip Larkin, and "In Memoriam" by Ewart Alan Mackintosh (both available on the web through a Google search!). This was a very literary age – there was no TV, radio, computers; the war generation was the first to have mass literacy thanks to the liberal reforms of the 1870's; reading and writing books and poems provided both an escape from and a way of dealing with the horrors being faced, and language had to develop to meet the new challenges. "No man's land", "Tactics", "Over the Top", "Lousy", "Souvenir", "Rank and File" and "Trenchcoat" are all words introduced into the language at this time.
The Battle of the Somme
Students conduct a debate on the issues of whether Haig was a good General, whether the battle plan was crazy, and whether it achieved its objectives. They do this by:
(a) Completing this worksheet as the teacher goes through The Battle of the Somme PowerPoint;
(b) Completing this investigation workpack about the Somme Offensive.
Interactive Factual Tests
To consolidate knowledge and understanding before the sourcework exercise which follows, get students to take the following tests and jot down the highest scores they get at the end of the session:
Alternatively, get all the students playing the Fling the Teacher Quiz, and give each student a ranking based on how quickly they finish it compared to the others.
Sourcework Exercise
This is a good point at which to set students to work on this sourcework exercise (which comes complete with a markscheme).
Why did Germany lose the War?
Students produce a 4-part newspaper report over several lessons based on this format:
1. Narrative of short term causes - using this interactive running dictation exercise.
2. Analysis of which short term events were most important - using this interactive jigsaw-table exercise.
3. Mid-term factors - using this worksheet.
4. Long-term factors - using this worksheet.
Students then use this work to complete an essay question based on either a thematic or a chronological structure, depending on ability.
Play Your Dates Right Quiz
World War One, 1914-1918 - a good way to round the unit off!
Social, Political, Economic and Cultural Consequences of World War One in Germany, Britain and the USSR
Students should open a copy of this table, and fill the gaps by playing one of the following quizzes:

"Who Am I?" Challenge - The Events of World War One
Each team will be presented with a clue about a key historical figure. They get 50 points if they guess it correctly. If they wish to 'pass', they get further (easier) clues but the points available steadily decline. An incorrect guess at any point means they get zero points for that round. You can play as many rounds as you wish. It's a great way to revise!

© 1998-2018 Russel Tarr, ActiveHistory.co.uk Limited (Reg. 6111680)
High Park Lodge, Edstaston Wem, Shropshire, England, SY4 5RD. Telephone/Fax: 01939 233909
All rights reserved
Trenches and life within those trenches have become an enduring topic from World War One. Throughout the war millions of soldiers experienced and endured the horrors of trench warfare. Some wrote down for posterity what these experiences were and as time has moved on from World War One more and more of these written documents – frequently in the form of a diary – have come to light. Others wrote about their experiences in book-form. On the British side "Goodbye to All That" by Robert Graves is considered a classic. For the Germans, "All Quiet on the Western Front" by Erich von Remarque was considered to be such a potent anti-war book that Hitler banned it. Over the years both books have sold in large numbers. In recent years "The Last Fighting Tommy" by Harry Patch gave an evocative account of trench life at Passchendaele. Others who wrote about their lives in the trenches did not achieve the fame of Graves or Remarque but their accounts are equally as valid. As recently as 2006 a trench diary kept by Private Bert Camp was discovered by his grandsons while the letters written home from the trenches by Private Freddie Noakes were published for the first time in 2010.
However, regardless of who wrote what about the trenches, all have one consistent theme – the horrors experienced by the men who had to live in them.
All of the soldiers who fought in trenches would have had a good idea of what a good trench was like and what constituted a bad trench. Frank Richards wrote about his experiences in trenches:
"A good standing trench was about six foot deep, so that a man could walk upright during the day in safety from rifle-fire. In each bay of the trench we constructed fire-steps about two feet higher than the bottom of the trench, which enabled us to stand head and shoulders above the parapet. During the day we were working in reliefs, and we would snatch an hour's sleep, when we could, on a wet and muddy fire-step, wet through to the skin ourselves.
If anyone had to go to the company on our right in the daytime he had to walk through thirty yards of waterlogged trench, which was chest-deep in water in some places.
The duckboard track was constantly shelled, and in places a hundred yards of it had been blown to smithereens. It was better to keep off the track when walking back and forth, but then a man had to make his way sometimes through very heavy mud…..wet snow had begun to fall, which turned into rain and some parts of the land were soon a bog of mud to get drowned in."
Bruce Bairnsfather experienced trench life in the early stages of World War One.
"It was a long and weary night, that first one of mine in the trenches. Everything was strange, and wet and horrid. First of all I had to do and fix up my machine guns at various points, and find places for the gunners to sleep in. This was no easy matter, as many of the dugouts had fallen in and floated off downstream.
In this, and subsequent descriptions of the trenches, I may lay myself open to the charge of exaggeration. But it must be remembered that I am describing trench life in the early days of 1914, and I feel sure that those who had experience of them will acquit me of any such charge.
To give a recipe for getting a rough idea, in case you want to, I recommend the following procedure. Select a flat ten-acre ploughed field, so sited that all the surface water of the surrounding country drains into it. Now cut a zig-zag slot about four feet deep and three feet wide diagonally across, dam off as much water as you can so as to leave about one hundred yards of squelchy mud; delve out a hole at one side of the slot, then endeavour to live there for a month on bully beef and damp biscuits, whilst a friend has instructions to fire at you with his Winchester every time you put your head above the surface.
Well, here I was anyway, and the next thing was to make the bets of it. As I have before said, these were the days of the earliest trenches in this war; days when we had none of those "props" such as corrugated iron, floorboards, and sand bags.
When you made a dug-out in those days you made it out of anything you could find, and generally had to make it yourself."
Some British soldiers found that captured German trenches were better built than British ones – as H S Clapham wrote after a successful attack on a German trench in Y Wood.
"When I dropped into the Hun trench I found it a great place, only three wide, and at least eight feet deep, and beautifully made of white sandbags, back and front. At that spot there was no sign of any damage by our shells, but a number of dead Huns lay in the bottom. There was a sniper's post just where I fell in, a comfortable little square hole, fitted with seats and shelves, bottles of beer, tinned meats and a fine helmet hanging on a hook."
August Hope wrote about the horrors he experienced.
"It was 9 a.m. and the so-called trench was full of corpses and all sorts of equipment. We stood and sat on bodies as if they were stones or logs of wood. Nobody worried if one had its head stuck through or torn off, or a third had gory bones sticking out through its torn coat. And outside the trench one could see them lying in every kind of position. There was one quite young little chap, a Frenchman, sitting in a shell-hole, with his rifle on his arm and his head bent forward, but he was holding his hands as if to protect himself, in front of his chest in which there was a deep bayonet wound. And so they lay, in all their different positions, mostly Frenchman, with their heads battered in by blows from mallets and even spades, and all around rifles, equipment of all kinds and any number of kepis. The 154th had fought like furies in their attack, to revenge themselves for the shellfire.
A heap of five corpses lay just this side of the barrier; we were constantly having to tread on them to try to squash them down in the mud, because, in consequence of the gunfire, we couldn't get them out of the trench. Our feelings gradually became quite blunted."